Sex Toy Review: The Xpander 4+ Prostate Massager & Vibrator | QX Men Magazine July 2016
There are three prostate toys to choose from in the XPander range. I chose the one that vibrates, of course… With five settings! This unusual looking sex toy claims to boost your orgasm by 200%… so in other words, I'm fucking sold!
My XPander 4+ arrived with its own 'VIP' card, a prostate massage guide and a silver fabric carry-case. It's got a rubbery texture that I wasn't too sure about (at first).
The vibrating bullet is removable. It has a satisfying 'click' control, unlike some that take a good push. Wider than most prostate toys, XPander 4+ looks a bit like a space gun. Internal gaps allow it to squeeze into your hole and expand once inside, hence the name.
I'm going to be honest, I was a little nervous about using this toy. I've been intentionally abstinent recently, so it had been a while since I had been 'using' my butt. Grabbing my bottle of SPIT lube, I applied a generous amount to the toy and my hole. I always find it helps to gently fingertip the lube in, raising your hips so it gradually pours inside. As soon as lube covered the toy, the texture felt extremely smooth. Most P-Spot toys have a rounded 'bulb' end, but the XPander 4+ finishes with a rounded point, which makes insertion easier. As it pushes into your hole, it closes in on itself, opening up as it gets past the ring. You reach a point of pushing where your hole 'swallows' it inside. The tip of the toy was a little bit painful inside, but I like that. The perineum stimulator pushes on you quite firmly, as the toy locks into place. It has ridges, though it's hard to feel them unless you grind on the toy. Every time I clenched, the toy would edge in and push on my P-Spot.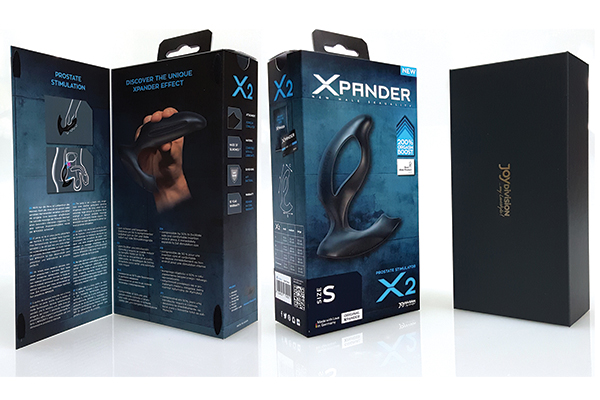 This felt VERY good. I was beginning to understand the 200% orgasm boast. I used this just after a hot bath, so I was feeling extra sensitive. I turned the vibrator on and instantly it tickled quite a lot, the vibrations travelling through XPander 4+ well. There are five options but I enjoyed constant the most. I felt its pointed end tickling me (and if I'm honest, all I could think about was downloading a dating app and bringing someone over ASAP). If you have a sensitive prostate, like me, you get REALLY turned on as soon as it's stimulated. I used the toy without touching anything else for a good 20 minutes. Simply taking deep breaths, clenching, releasing and then rocking was doing the job just fine. I can always tell when I'm enjoying sex because I bite down on my bottom lip unconsciously… And this lip was bitten.
"I'm never compos mentis when I cum, but I can tell you that I twitched for a good 45 minutes after using it!"
I began to wank which felt really good from the inside moving outwards. I began to shiver at points, so I kicked my desk fan on for extra effect. Playing with hot and cold whilst using sex toys or fucking is one of my favourite things to do. It definitely worked.
I only lasted a good five minutes wanking with the toy but the timing wasn't something I cared about. You could easily spend hours edging yourself with the XPander 4+ … And I plan to! The orgasm was very powerful. Would I say it was 200%? Perhaps. I'm never compos mentis when I cum, but I can tell you I twitched for a good 45 minutes after using it… Then I had to take a nap.
The one thing I don't enjoy about using prostate toys is pulling them out. The XPander 4+ was a little bit awkward to get out. It definitely isn't the most elegant of processes. Clean up is a little awkward too, because of the gaps in the probe. I used a face wipe and then finished with a toy cleaner spray and water to make sure all of the lube was out.
Do I recommend it? YES. I will go so far as to say this MAY be one of favourite products.
Cons:The vibrator doesn't come with a battery (1 X AAA). The material would be nicer as a silicone.