Sex Toy Review: Titus Silicone Flexi Prostate Vibrator | QX Men Magazine February 2017
The Silicone FLEXI toy from CLONEZONE looks like a worm mixed with a curved fingertip. This doesn't sound sexy but it is. Take a look at the photo below and you'll see what I mean. FLEXI is part of the Titus range of sex toys, which have been designed with male pleasure in mind. It's been named the 'Prostate Force Probe' which brings intense, directly prostate milking to mind.
FLEXI features ten ridges up its beefy shaft, where it curved towards the top into a Prostate Massaging point with textured nodules for direct stimulation. This P-Spot toy boasts TEN vibration functions, which sold it to me. I'm a bit obsessed with prostate toys if you hadn't already noticed from the columns?
The Titus Silicone FLEXI is made from a luxuriously velvety silicone material which carries the vibration through, finishing on the outer layer with a nice direct tingle. It's a thicker prostate massager than most, boasting a 5 inch circumference at its widest point. If you don't like probes and prostate toys because they aren't thick enough for you, I think FLEXI will satisfy your need to feel full. I would recommend douching before playtime too.
I began by applying a generous layer of SPIT ® Water-based lube up and down its shaft, focusing on the head and the curve, as no-one wants a dry curve pushing into their ring. Am I right? Make sure that you use either a water-based or hybrid lube with it. Using silicone or oil-based lube can gradually break down the silicone material on sex toys, leaving them feeling rough and becoming useless. At the base of the toy (the fatter end) there's a power button which you select to travel through its ten settings. It's easy to use and the vibrations are powerful. It's not often you get a sex toy for 30 quid that delivers this sort of intensity.
Why is it called Force, you ask? You control it by holding its straight base to force and angle the prostate point into your milking spot. You 'force' its shape back-and-forth, pushing the curved point directly into your prostate and the muscles surrounding it. You can be as forceful or as gentle as you want, dependant on the experience that you want. Ok, so back to using the toy myself. Pushing the Flexi into place takes a bit of force, a few deep breaths and lots of relaxation. Doing the gentle 'pushing your hole out a bit' to accept the girth helps. Like I said, at 5 inches, it's not the easiest if you're not a regular anal stretcher.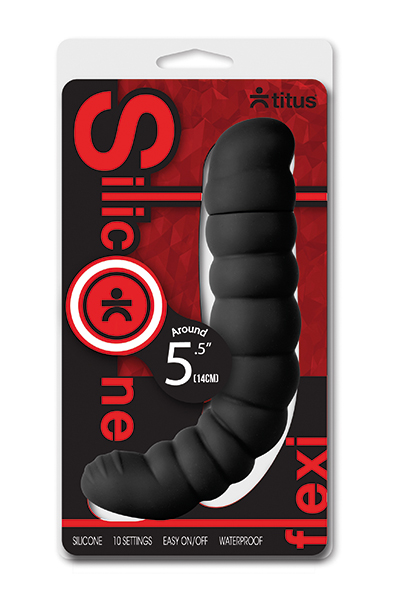 As it slides into place and ergonomically into your internal shape, the instant satisfaction will knock you off your feet. So make sure that you're lying down. You know you've hit your P-Spot when you get that tingling (almost burning) sensation that gives you the urge to almost take a piss. Focus on this spot, relax and use it. That's the male G-Spot and you're going to enjoy it.
Usually, with prostate toys, I wouldn't recommend to push it in-and-out, mimicking being fucked by a cock. However, with FLEXI I do recommend doing this. Feeling those ribs push in and out of you is really nice, comparable to when you're being boned. Fucking the hole and reaching into the prostate, peaking with a push on your G-spot is what makes this toy special.
Reaching orgasm is intense and relatively fast. Using FLEXI, it's almost if I could feel cum heat up and fire from the inside outwards. The orgasm is intense and tingles from your prostate, your frenulum and especially your perineum (the gap between your balls and hole). If you're someone, like me, that enjoys toys that focus on intensity and pleasure over penetration and stretching, then this is the toy you need.
Clean-up is really easy with one of the toy cleaning sprays at Clonezone (I use the Nexus Toy Cleaning spray) focusing on wiping all the lube and cum off the ridges on the toy. As the silicone has a matte finish, you might want to polish it back to flawlessness. Otherwise, the wet marks might bother your OCD. It bothers mine.
I must reiterate… IT'S ONLY £29.99! Get one before my colleagues change their minds. The only negative I give this toy is how it feels being removed. The curved shape locks into place so, again like insertion; you've really got to relax to pull it out without irritating yourself on the inside. Don't ever force something out of your hole, no matter how much of a rush you're in.
Vibration Settings: Vibrate (high), Vibrate (medium), Vibrate (low), Gradient burst, Intermittent, Surge, Insta-Surge, Even step, Rollercoaster Spurt and Pulsate.
Dimensions:
Length: 5.5 inches or 14cm
Circumference at thickest point: 5 inches
Features:
– Luxurious silicone
– 10 Settings
– Easy on/off controls
– Waterproof
The Silicone Flexi is available online at www.clonezone.co.uk for £29.99 with FREE U.K. shipping and in Clonezone stores nationwide.