Getting Back into Sex | QX Magazine, October 2018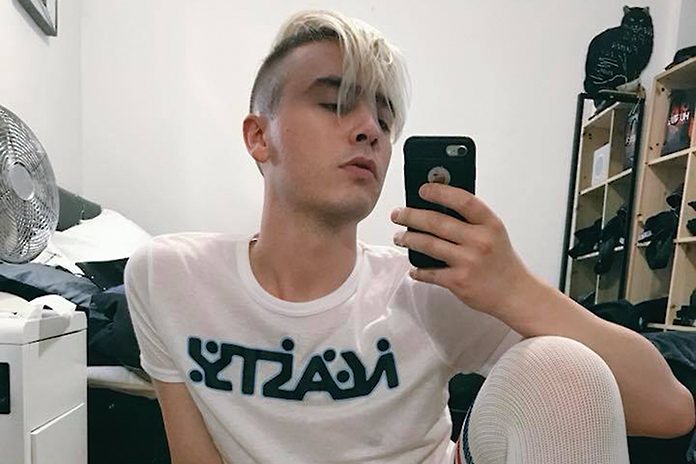 Topher talks hopping back on the saddle, and the joy of sex.
---
Working in the sex industry means you are instantly stamped with a certain label in people's minds. It's quite hard for people out there to see you as anything more than a sex toy obsessive, 'Only Fans'-promoting, fuck-it-bucket with a lack of integrity and social decorum. I can be an absolutely attention-seeking slapper… there's no denying that, but I think with my job (some say 'sex educator') there comes a certain amount of pressure. I have to be amazing in bed. And to be quite honest, I am very confident in my sexual abilities and always have been. But the pressure gets to you.
People often ask me how I got so into sex education and how I justify my title. I've worked with sex toys since 2008, but in 2013 I got thrown into singledom after a lifeless 5-year relationship ended. It was my first time on the dating market as an adult having entered my relationship at just 19. I was 24 and back in the game!
I jumped back into all kinds of fun after the breakup. I wanted to learn everything about sex. I slept with a few women and tried every dating app under the sun (I'm now banned for life from Badoo). I always end up in situations with closeted men, which seemed to be my default setting. They're my go-to boy toys but there was one particular experience which profoundly affected me and the way I look at sex – as well as my own desirability.
"I always end up in situations with closeted men, which seemed to be my default setting"
The first full sex I had with a man after that particular ex was with an Armenian Tattooist when I went on Holiday to LA, let's call him… Aaron. He was tall, covered in tattoos and had chiselled features. He had this mix of dark Eurasian features meets 1950's American rockabilly. He was the straightest looking thing I'd ever seen and I wanted him badly. We met after I had finished drinking at The Abbey, and he looked ten times BETTER than his pictures. He wasn't out of the closet but that wasn't an issue for me since I was 'on me summer 'olidays'. After some chatting, we ended up back at his place, which was a tattoo studio in Glendale. As we arrived, I could hear the whole building echoing with Elvis Presley songs which repeated all night, non-stop. Sounds like it was bound for an AHS-style morbid turn, but it thankfully didn't.
We spoke for a bit, about life, London, him not having been with a guy before and then swiftly jumped into it. His dick was bigger than I was used to and the sex was amazing from the get-go… despite him only having orange flavoured condoms. He hadn't been with someone that knew how to suck dick without hurting his shaft with their teeth before or knew how could ride, so he kept complimenting me which, in turn, made me work harder to find the points on his body he enjoyed. I guess I got off on impressing. It's been my understanding of people's pleasure points and focusing on people's sexual interests which has given me the experience to advise people over the years.
He tried to use the hotel shower gel as lube at one stage, which I quickly put a stop to and I found myself educating him as we went. We had sex pretty-much all night and as I came-to the next afternoon, with his big muscular arms draped over me, he told me he loved me. I didn't believe him but it was perfect – the entire scenario. I then realised it was exactly a year-to-the-day that I'd left my ex. A penis gift from the universe? Cheers! I'd burst the cherry. I was back and a seed had been planted (figuratively). It had left me HUNGRY for more sexual exploration.
Me and 'Aaron' still speak and sext every-now-and-then…
Topher is PR & Brand manager over at Clonezone. To shop the UK's largest selection of toys, fashion and underwear head over to Clonezone.co.uk, or visit their locations in Soho and Earl's Court.