Sex Toy Review: The Nexus ACE Remote Control Vibrating Butt Plug – Small | QX Men Magazine November 2016
I've always been a fan of Nexus products and have been lucky enough to be the first person to test many of their award-winning sex toys for men.
Nexus first introduced the ACE range to the market a few years ago with the ACE Medium. Next came the ACE Large and now they've brought out the ACE Small. I love the idea of the ACE Small as most vibrating anal products for men are quite large, alienating them from guys who aren't used to big toys and those who just don't enjoy big ones. I'm not a fan of big anal toys and I won't test them personally – I'm just not that kind of boy!
The ACE Small measures in at an unintimidating length of 100mm with a comfortable diameter of 30mm. It's beautifully soft to the touch with Nexus' famous velvety silicone coating and features six pleasure ribs at the base of the tapered plug and on the base of the plug itself. The best feature of this product is the remote control. You can use it to control your ACE's six vibration settings (slow, medium, fast, pulsing, fast pulsation and graduation). It can also be controlled by a smooth and easy-to-access button on the base.
As it's a Nexus product, I grabbed my bottle of Nexus Slide lube (also available from Clonezone.co.uk) and applied this liberally to my hole and the toy. Why liberally, you ask? It's been a while; even the smallest thing is raising an eyebrow at the moment – unfortunately. Don't fucking judge me!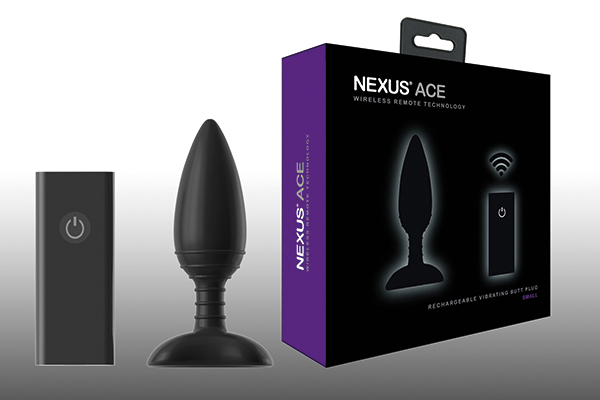 The ACE slides in really easily, mostly thanks to its petite size. Once you reach a certain point, as with most tapered products, your body 'swallows' it inwards – it's base resting against my perineum and around my hole. Nexus know their materials, so it feels good against your skin. Just one thing I need to tell you, wipe the fucking lube off your hand before using the remote.
Water-based lube has a tendency to get sticky against your hands and on the plastic. This is why I use silicone lube all the time. But with this toy, you cant. So keep some wipes handy. The first vibration setting is slow; this tingled instantly and due to the ACE's flexible shape, this made the whole toy tingle. It's a really nice sensation and not an OTT buzz that numbs you.
I flicked through a few options and settled on fast pulsation as, like I said, it's been a while and it felt really good. As with most butt plugs, I recommend masturbating or using a masturbator so you can wake up all of your hot spots at once. Wanking with something inside of you is always going to feel good and due to ACE's petite size, it doesn't feel too intense to prevent your focus – it just enhances this 'orgasmic' tingle building up from the inside.
The neck of the plug is bendy, so I actually ended up resting on the floor and grinding on it. Thank fuck no one walked in on me, I'm sure it didn't look too flattering but it did feel good. Riding upwards brings the thickest point of the ACE to the entrance of your hole, giving you that stretch feeling that's always nice. The closer I got to cumming, the more I wanted the ACE to feel deeper inside and stretching more. This is where, in my case, I would have probably preferred the ACE Medium.
I kind of wanted it to hurt me but that's because I'm having a bad month and wanted to release some tension. Not everyone wants that (especially beginners) so it's an ideal toy for newbies to anal playtime or tops who want to experience some anal pleasure. Cumming is good.
It gives you that 'quenched' sensation in your hole that you want when you're ejaculating. One thing I usually dislike about anal toys is removing them after you've cum can feel kind of horrible, but the ACE popped out a charm. No hassle, its smooth material and small size guiding it out flawlessly.
I need to mention that this would be a FANTASTIC couple's toy. Give your boy the remote control, jump on the Northern Line and let him tease you! Use it in restaurants – unless you're sat somewhere absolutely silent or are pushing your hole against the seat, no one will hear you. As you can use it up to 8 metres away, the ACE is a lot of fun.
The Nexus ACE Remote Control Vibrating Butt Plug – Small retails at £54.99 at Clonezone.co.uk with FREE UK P&P
Use 'TOPHER' for 10% OFF