Sex Toy Review: PUMPWORX Vibrating Penis Head Trainer Pump | QX Men Magazine April 2017
I was drawn to the PUMPWORX Vibrating Head Trainer Pump because it appeared to me, to be less of a 'pump' and more of masturbation / pleasure enhancing device.
I will be very honest and begin with saying that pumps have never appealed to me. Ever. If anything, the idea has always made me want to cross my legs. The reason being, I don't really want to be enhanced. I am fine in that department; plus the strong suction feeling has never been something that's appealed to me. But, alas, it was time to try something new. It's not a large toy, which impressed me. You can easily handle its size in one hand. Inside of the box comes a free toy cleaner, thickening cream (for you nob), MOIST body lotion (I hate this lube) and a cock ring. The purpose of the cock ring being included is so that you can 'hold' the results of your pumping experience in your dick.
At the top of the cylinder is a 'Powerful Vibrating Head Teaser' which is the accessory which sold the piece to me. "The Head Trainer feels like good head. Not great head. Good head." Ok so let's get into the details. You begin by applying a GOOD amount of lube to your head. I recommend using a fair bit, as suction PLUS vibration can be a little rough on a dick that isn't wet enough. As you push into the cylinder, your held is hugged by the textured vibration head teaser. This in itself feels good.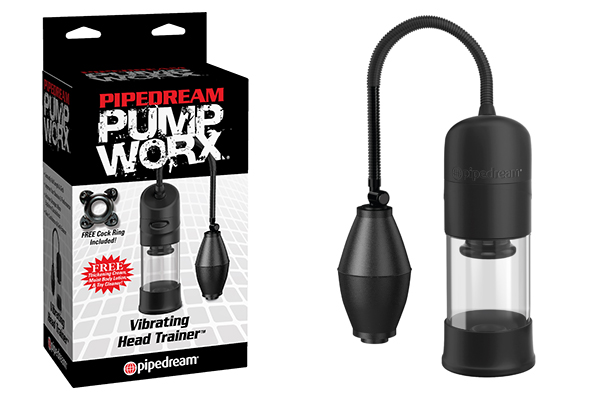 Then, there is the pump. This is the part that I was hesitant about. But, when you squeeze the bulb – the initial pump is a shock to your dick. In a good way, I was immediately impressed. If you aren't fully hard before pumping, you will be within a few seconds.
The majority of the most sensitive (and satisfying) nerves in your penis are in the head. The frenulum area is satisfied by this toy especially. You can use it for a while, but you'll find that you will begin to get close – the cock ring helps prevent this. If you are NOT wearing the ring and want to enhance the experience, pop it on. It's nice and stretchy and grips you well. If you'd prefer, put on one of your own. I prefer the Oxballs Cocksling 2.
Every time you squeeze the pump, you get that satisfying blowjob feeling. It's also a bit comparable with the sensation of pushing into a tight hole. The sensation can get a little too much though, so when (if) this happens, simply squeeze the easy to use Quick-Release air valve on the tube. The vibration is good. It's not too much. I'd prefer it more if it had a 'stroking' sensation, similar to the Nexus Sparta prostate toy – but for your frenulum. This would make this toy 2 x better.
I came to orgasm quite easily with this product. Was it incredible? No. But it was good. It was fun. This would be a fun toy to use with your man if you have one. If you're too tired to give head or just want to play with him, use this.I recommend paying attention to the suction, edge your hips back and forward to 'fuck' the little sleeve a little bit too. You WILL have fun with this toy but will it be your favourite toy ever? No. It beats most masturbators and definitely beats your right hand.
Features:
Vibrating HEAD TEASER
Super-soft TPR Pressure Sleeve
Quick release air valve
Easy to use with one hand
Quick pumping action with soft pump
Requires 2 x AAA Batteries
The PumpWorks is available online at www.clonezone.co.uk for £39.99 with FREE U.K. shipping and in Clonezone stores nationwide.
Shop COCK PUMPS and accessories by clicking here. Use 'TOPHER' for 10% OFF.