Sex Toy Review: The CUM Explosion Mouth Masturbator | QX Men Magazine March 2017
Do you want a CUM EXPLOSION? Masturbation toys can be very pricey… but do you really know what you're paying for? A lot of these wanking toys are very similar, so it can be tough to figure out which direction to throw your cash in. This week I'll introduce you to an affordable option, in the shape of the elegantly named 'CUM EXPLOSION' Masturbators at Clonezone.
This £24.99, hand-held wank toy comes in two options; 'The Mouth Gobbler' or 'The Hungry Ass'. Each is made from lifelike pale flesh material that's been aptly named Love Clone. This flesh-like material warms to the touch, is super soft and has a plump feeling. The Mouth Gobbler features a pouty mouth at the front, which you stick your dick deep inside of (without it gagging or complaining) reaching into the tight, textured canal. This option comes in sexy, see-through blue.
The Hungry Ass features a peachy anus and comes in a black plastic container with easy-grip ribbing. The peachy Love Clone material works beautifully with water-based lube, creating a tight and wet clench, similar to a clenched anus or gripped wet lubed hand.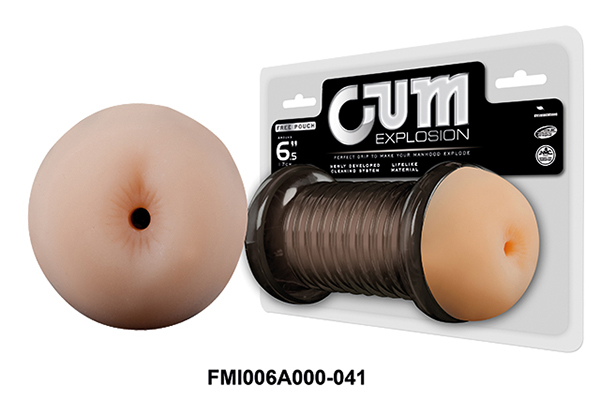 This tight tunnel grips every inch of your shaft and head, grinding your pleasure spots to instant satisfaction. It has the consistent tightness and suction inside that mimics a tight hole / throat. Fucking through is easy, though you do feel a bit or resistance due to the channel of air being blocked. You can combat this by screwing the end off.
Why does the end screw off? There are two reasons for that; the first being for suction control during fucking the toy, the second being so you can clean the CUM EXPLOSION through and allow drying. The Cum Explosion is one of those toys that I'll always recommend. It doesn't come with bells and whistles; it doesn't spin or need to be recharged. Simply squeeze some lube on your shaft, its tight hole and grind it up and down your boner until you reach an explosion of your own.
The internal sleeve is easily-removable for a hygienic clean; you can easily pull the sleeve out by gripping the base of the tapered sleeve head. Take advantage of the sleeve when it's out of the casing too by using it as a wank sleeve. It pops back into place easily, with the shape sliding back into its spot with little-effort. Masturbating with this men's toy is simple and smooth due to its lightweight shape. As its only 6 inches in length, you can easily hide this bad-boy away when playtime is over.
The Cum Explosion comes with a silky carry-case and a free sample of water-based lube. The case assures discreet storage and the lube sample means you can play straight away.
Features:
1 x Sachet of ASTROGLIDE Water Based Lube
1 x Silky Discreet Carry Case
Cum Explosion Dimensions:
Length – 17cm
Width – 8.5cm
Diameter – 8cm
Click here to shop masturbators. Use 'TOPHER' for 10% OFF.