Sex Toy Review: Fleshlight TURBO THRUST Masturbator | QX Men Magazine October 2017
I was going to review a couples toy (for my first time ever) this week, but he turned out to be a waste of time… so we are back to solo play.
There's a reason that Fleshjack / Fleshlight is the worlds best-selling men's sex toy brand, and it's the consistency in their masturbators. The team at FJ have made a few variants of the iconic flashlight shaped toy (for example the TORQUE that reviewed before) but nothing beats the real thing.
It's not all about the brand though, it's because these toys feel really fucking good, grinding up and down your dick. Ultimately, you want a toy that makes you feel good. This month I'm checking out the Turbo THRUST Fleshjack, which comes in Ice Clear / Ice Blue. This toy has been designed to mimic the sensations of an expert blowjob and deep-throating session, with its suction, it's blend of plump firmness and the detailed inner texture.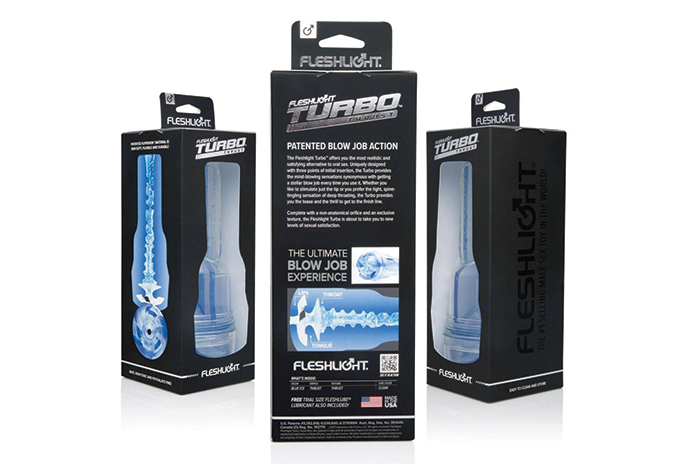 Now, with any Fleshjack toy you need to use a Water Based Lubricant. Bang some lube in the hole, and get to know the inner texture as you rub it through. I recommend using ID Glide just because the bottle matches the toy. I'm easily entertained by things like that. Unscrew the lid of the THRUST to check out its 'vortex like' shape and hole. When you apply the lube and finger it through, the toy warms to your body temperature almost immediately. You can tell that it's going feel good on your dick.
Apply a little bit of lube to your cock too (if you want) and push inside. When I pushed in, it instantly felt like a plump pair of lips clenching at the top. You could actually make yourself cum just by tipping it. Instantly, I had the urge to push it balls deep and it felt instantly gratifying. Now, I was quite hungover when I used it, so everything felt more sensitive. But there's no denying that this is a pleasurable toy. You can see everything you're doing, as it's an 'ICE' toy, so if you're ever curious what you look like when you're fucking… you have to try this.
After the 'lips' section is the tongue section, where about 1.5 inches of soft textured material tingles against your cock. After the 'tongue' is the 'throat' which is the extra good part. The throat texture changes as you plunge through, assuring that it doesn't get boring and your cock doesn't get used to it. The inner material is nice and tight, and with the suction, it's satisfying to fuck.
Bringing yourself to orgasm is really simple with the THRUST, but in my opinion, it's not the point. It's a pleasure toy that you'll enjoy twisting, grinding and plowing up-and-down, wanking with and fucking. If you want to fuck it, just stick it between two bits of furniture (e.g. bed and bed frame). Of course, you can have a quick wank with it but you can also really enjoy yourself. We all work very hard, so sometimes it's nice to have some time alone (or with a partner) to give yourself some well-earned pleasure.
I really recommend that as you're getting closer, to bring your cock out of the toy as much as possible. Use the first 3 inches of the THRUST to make yourself orgasm, as the changing textures of the entrance are magic. It also doesn't squeeze too much when you cum. The orgasm is so nice, not too intense and the toy catches everything.
Cleaning up is so easy, as with all their toys. Simply remove the inner sleeve and wash it through (I use Nexus Toy Cleaner spray and tap water), as well as cleaning the case. The whole packaging is completely washable, with holes on both ends. Just make sure both pieces are 100% dry before putting back together. If you aren't confident, use a blow dryer on a low temperature.
If you look after the THRUST, it'll last you a long time.
Features
Removable sleeve for a hygienic clean
Graduating texture inside for maximum sensation
Designed to mimic a blowjob
Easily and discreetly stored
Product Specifications
Total length: 9.75 inches
Insertable length: 8.5 inches
ABS Plastic Case
Silicone Internal Sleeve
Click here to shop Masturbation Toys. Use 'TOPHER' for 10% OFF.