Sex Toy Review: The P-Motion Stroking Prostate Massager by Pipedream | QX Men Magazine September 2016
The first thing that struck me about the P-Motion is its size and the luxurious feel of the silicone used. It's a longer prostate massager than most, almost looking more like a 'probe' – but it has a very attractive curved shape.
P-Motion gets its name from the 'ball' at the centre of its shaft. Inside of this anal ball is two smaller massagers which grind up and down on either side, in a come-hither motion.There's a strong vibrator (with 5 functions) at the end of the prostate probe, designed to give direct stimulation to your P-Spot. The base of the P-Motion has three buttons; one for the vibrator at the end of the massager itself, one for the ball with 'motion ball' and one to switch it on-and-off.
It's a rechargeable toy, meaning to batteries – which instantly earns it brownie points from me. You can use your iPhone or smartphone USB block. I always give a toy at least 4 hours before playing with it – you do NOT want your little vibrating playmate to die before you've cum! I used P-Motion with Spit lube from Clonezone, as due to its larger size, I wanted something slicker and thicker to help it into place.
It's such a smooth toy that pushing it in wasn't that hard, just took a few deep breaths and a few daydreams about Frank Ocean – and we were in. As with all prostate toys, your hole reaches a point where it 'pulls' it in – as the ergonomic shape is accepted. I accidentally switched the vibrator on before I was ready and nearly fell off my bed… This is a very powerful vibrator!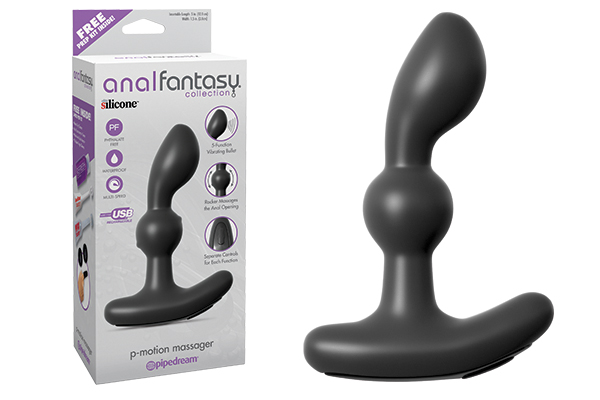 I was more curious about the rocking balls, so I switched them on and felt the difference inside immediately. I would describe the sensation as a finger gently rubbing on your sphincter; up, around, down and repeating.
It really was one of those lip-biting, eyes rolling back in the head moments. The direct vibration in the tip is an instant winner, especially with the pulsating setting (controlled on the base). You feel this ticklish, almost burning stimulation from the inside building out.
I make no secret of my fascination with prostate massage and the 'male G-Spot' so this product was pretty much designed for my desires and curiosity. Using the strongest vibration setting and rocking balls, I actually made myself cum before I meant to. I wasn't even masturbating. I cannot promise that this will happen to everyone; however, I just happen to have a very sensitive P-Spot.
Usually, with prostate toys, they sit in place and you don't need to do much but there was something very satisfying about holding the base of the P-Motion and thrusting it in and out – whilst randomly pressing control settings on the base for different sensations.
I really enjoyed this toy. I can tell that I liked the P-Motion because I had so much fun with it. I wasn't sat going through settings, I just instantly started fooling around and resisting the urge to go through my Whatsapp contact list… You get what I mean. P-Motion is ideal for solo play and for use with a partner. I used mine when I was experiencing quite a terrible hangover, so it was enhanced by the hangover horn. If there was a partner controlling it for me – I'd have probably fainted through happiness. So get your boyfriend involved if you have one.
P-Motion features
5 inches insertable
1.5 inch width at widest point
5-Function Vibrating Bullet within its bulbous tip
3-Speed Sphincter Stimulating Rocker in Shaft
Rechargeable by USB
Use with Water Based lube only
Click here to shop Prostate Toys. Use 'TOPHER' for 10% OFF.