Sex Toy Review: FILL MY TIGHT ASS Masturbator by Pipedream | QX Men Magazine August 2017
For this month's column I am going to test The Great American Challenge. At 17 inches long and a circumference of 8 inches, it's quite a hefty toy, but I thought I'd be up for it… I'm joking. That's not happening this month. We've had so many new arrivals at Clonezone in the past few weeks that it was hard to pick something, but when a particular item arrived – it got my attention immediately. It's quite hard to ignore a box that says 'FILL MY TIGHT ASS', believe it or not.
---
If you're looking at the image, you'll see it's basically a butthole with a long tunnel which is surrounded by 4 'cock rings'. The purpose of this is to tighten it, gradually getting tighter the deeper you get. It's a bit of a reverse to an actual butthole, which loosen up the further you get it. So you're technically fucking someone backwards, which I'm down for trying.
Pipedream's 'Extreme' range of sex toys are usually HUGE and extremely heavy sex dolls, which range from £100 all the way up to £1000 – so, this £24.99 alternative is a great idea for men who want to familiarise their bell ends with the range without breaking the bank. The material is a life-like flesh material, which only comes in a pale flesh tone. That's a bit disappointing (considering it 2017 and all) but I did want to try it. I'm a fan of Pipedream sex toys, as you'd know if you read this column.
The Fill My Tight Ass comes with a free bottle of lube and a sex toy cleaner, and the tightening cock rings are removable and movable so that you can customise your wank. As you lube yourself up and insert into the tight and textured canal, you naturally react to the sensation. It's tight and grinds against your penis head, with a special squeeze on the frenulum a couple inches in. The tunnel doesn't have a through hole, so the suction feels lifelike.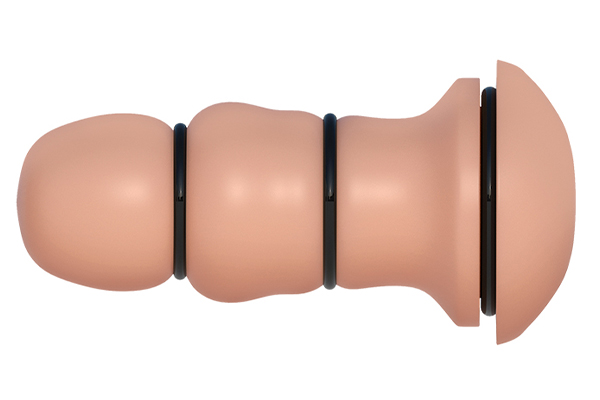 As you squeeze past each ring, it feels good but I personally had to remove the third ring. Being young hung and full of selfies – it was too narrow for me and actually took away from the pleasure. If you have a thicker girth, maybe give the last ring a miss.
This is probably one of the most satisfying masturbators I've ever felt, and I'm surprised that no-one has thought to do it before. The addition of the rings feels like a bottom is clenching as you fuck him and it's really fucking nice. I would try and describe it a bit more eloquently, but we are talking about a posh wank here. The 'Fanta Flesh®' material warms to the touch, and feels like doughy flesh butt cheeks. It has a nice, non-chemically smell and feels nice against your skin. You can wank slowly with it, wank fast or hold it over your dick when you're being fucked. It's not a 'tunnel' toy, so when you cum, it rests inside the hole – keep this in mind whilst pulling out.
The orgasm is really nice, as the bumps inside catch the back of your bell end really well, I caught an ankle where it felt like I was being gently flicked and this actually made me orgasm quite quickly. This would be a really fun toy to use on your partner, giving it squeezes and bends as you grind towards the top.
Clean up is really easy, which is music to my ears. As you probably know, cleaning a sex toy straight after orgasm is not everyone's idea of fun – but with masturbators I recommend that you do. Remove the rings, rinse with water, pour the clear in, give a shake, rinse through again and allow drying before putting it away. Do not put it away when its damp, that's dutty.
POINTS:
Made in the USA
Use with Water Based Lube ONLY
Easy to clean
Removable cockrings for tightening/loosening
Click here to shop Masturbation Toys at Clonezone. Use 'TOPHER' for 10% OFF.