Sex Toy Review: The Element MS Vibrating Masturbation Sleeve | QX Men Magazine January 2017
The ELEMENT MS 'Masturbation Sleeve is a really futuristic looking dick toy that's been designed by the team behind Pipedream products, 'Sir Richards'. Not Cliff, nor Branson. I'm not a fan of the name but that's not important.
This piece has been made with penis stimulation in mind, which is obvious from its wrap-around design. The company claim that the ELEMENT MS is designed with an 'intimate understanding of the male body and pleasure points'. This is basically technical jargon for the fact it vibrates, oscillates and stimulates your bell end, frenulum and shaft.
The first thing that strikes me about this (fucking cool) product is the elegant packaging. It's not often that I give a shit about the box my sex toys come in, but this really is quite stunningly packaged in a folding box which breaks down the benefits of ELEMENT. I have been very excited about this arriving into stock at Clonezone, as I've had my greedy eye on it for a while.
ELEMENT MS features digital vibration modes which are easily controlled by the click of smooth, easy-to-reach buttons on its back. The shape contours to your cock, with silky soft silicone 'flex fit' material which is gentle on your skin. It's extremely supple and very satisfying to the touch. I started by rubbing SPIT lube into my dick, focusing on the frenulum (back of the head) and the head itself. You can actually use this toy when you are soft, but it's hard to stay soft when you're grinding lube into your cock and you have a 2-day hangover horn going on. You know exactly what I mean.
I know through experience that it's good to use cock toys after having a hot bath or shower, so I used mine after a bath. It makes me extra sensitive so I really feel the benefit of these types of toys. I pushed the toy down my shaft and it flexed around my cock. The first thing I noticed is how lightweight and smooth it is. The inside of the sleeve features ribs for your cock… but if I am honest, I didn't really feel them.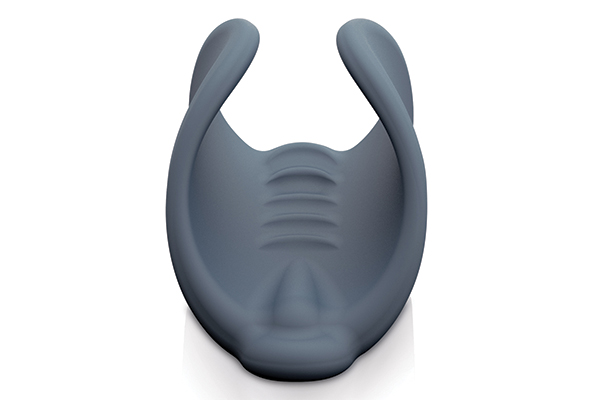 When I switched the vibration on, it made me jump. It's very tingly and instantly woke my dick up. The vibration rested perfectly on the back of my head and I noticed that the second the vibration kicked in, I was instantly REALLY turned on. Something about the place it hits you really fucking gets you horny. I was trying to stay focused but was too busy daydreaming about Ty Dolla $ign.
The sleeve vibrates so intensely that you could cum without having to do anything. And I mean that honestly. Especially guys who are uncut. If you have a boy over, get him to sit on top of it and mount you – so you both feel the benefit of its texture and vibration. Don't insert it into your or anyone else's arse. That would be a really stupid idea.
I pushed down on the sleeve so I could grind it up and down my dick, which is where I finally felt the benefit of the ribbing. The vibration follows through the silicone and tingles so delicately at the edge of the material that it almost makes you shiver when you feel it.
I decided to 'grip' mine and wank with it. I wasn't feeling very patient when I was using it but I would recommend to readers that you just lay back and see if it makes you cum. ELEMENT lasts for fifteen hours on a single full charge, so you can lay there to your hearts content. Though if you have the luxury of being able to do nothing but wank for fifteen hours, then I really envy your life.
If you experience erectile dysfunction, whether it be psychological or physical -this toy is something I would DEFINITELY recommend for you. It'll train your body to be patient with pleasure and awaken sensitivity in your cock. Use it as a training device. It doesn't take long to reach orgasm with ELEMENT, though it is a little bit awkward to wank with. It's not often that I feel that something 'grips' the whole shape of my cock without suffocating it but the winged design is a satisfying fit.
You do a lot of building up to orgasm with this toy, so when you do cum, you will probably find that you fire. I literally nearly sprayed into my own face. Cum doesn't get on the toy, unless you are grinding it right up over your urethra, so you don't have to worry about cleaning it off. Cleaning the lube off the ELEMENT MS is simple. No hassles, whatsoever. It dries very fast too.
I know this sounds a bit stupid when describing a sex toy but the ELEMENT MS is very pleasurable. That's the best word I would use to describe it. It is a real treat and quite beautiful to look at. You could have this on the bedside table without it being obvious as to what it is.
I'll be keeping this toy around for a while yet.
Features:
– Discreet, quiet (yet powerful) vibrations
– USB rechargeable
– Made from medical grade, velvety smooth silicone
– Waterproof and easy-to-clean
– Features a high performance lithium battery
Advantages:
– Designed with the male anatomy in mind
– Digital vibration modes in 5 levels and multiple functions
– Body safe, hypo-allergenic and phthalate free
– Runs for 15 hours on a single charge. FIFTEEN HOURS!
Click here to shop masturbators. Use 'TOPHER' for 10% OFF.
Click here to read at QXMEN.com
If you have any 'personal' questions about using these toys, email me at topher@clonezone.co.uk.